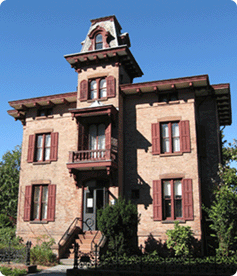 The Historical Society and Museum collects, preserves, and celebrates the history of Tarrytown and Sleepy Hollow.
The Historical Society has been the keeper of the collective memories of the villages of Sleepy Hollow and Tarrytown since 1889. Our members work together to preserve the history and character of our community.
The Historical Society, Inc.
Serving Sleepy Hollow and Tarrytown
One Grove Street
Tarrytown, NY 10591
Telephone 914 631-8374                           historyatgrove@aol.com

Find us on Facebook!
Local Trivia Night:
Wednesday, October 11.   At The Tapp…..17 North Broadway, Tarrytown
Come and test your knowledge of Sleepy Hollow and Tarrytown triva!
It's Walking Tour Season!  We are offering two tours this year.  Hope to see you in Tarrytown or Sleepy Hollow soon.
Sunday October 22 10:00 AM   SOLD OUT
Saturday October 28 at 10:00 AM  SOLD OUT
Sunday October 29 at 10:00 AM   SOLD OUT
Saturday October 14 at 10:00 AM  SOLD OUT
Saturday October 28 at 10:15 AM   2 tickets left
Sunday, November 5 at 10:00 AM
The Good, the Bad and the Unusual Evening Lantern Tours at Sleepy Hollow Cemetery
Historical Society members will take you on a tour at Sleepy Hollow Cemetery and dish about colorful local residents and some world famous inhabitants of the famous resting place.  You can guess who will be good, bad, or unusual!   Visit Sleepy Hollow Cemetery for information or click the link below to buy tickets!
Shopping for friends and family online? Use Amazon? be sure to use our Amazon Smiles link https://smile.amazon.com/ch/13-1790735
Books On Sale
Tarrytown and Sleepy Hollow
Tarrytown and Sleepy Hollow in the 20th Century
Available for sale at the museum.
Contact us
if you are interested in purchasing our books.
Historical Society in the News
Westchester Magazine – The First Families of Westchester
Historical Society Hosts New NY Bridge Talk
The Legend of Sleepy Hollow Lives On
Native America Artifacts Donated to the Historical Society
Historical Society in Video
Comedian Kevin Meany stopped by for visit before his show on Saturday.
Kevin Meany Christmas Show 2011
We proudly partner with