The Historical Society maintains a library and archives for local historical research.  Researchers and Genealogists can visit the Library during the hours that the Society is open.  For a small fee (Research Fees Page), the Historical Society staff and volunteers will conduct research for individuals unable to visit the library.
Please print the Research Request Form (pdf) and return it to the Society for research assistance.  To view the form you will need Adobe Reader. You may download Adobe Reader for free at www.adobe.com.
The photograph collection is also available to researchers.  For information about obtaining copies of photographs, please see the Photograph Agreement Form (pdf).
The Society has diverse archival collections, including the following frequently used resources:
* Books on local and state history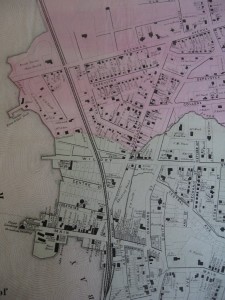 * Local photographs and other images
* Subject files on community institutions, people, and events
* Maps and Atlases from local, county, and Hudson Valley areas
* Local Directories
* Manuscript collection including records of local businesses, churches, and schools
* The Requa Archaeology Collection