The Jacob Odell House was built in 1848 in the Italianate style. It was constructed by Jacob Odell as a wedding present for his wife, Harriet. Jacob Odell, later elected the first President of the Village of Tarrytown, owned a brick and lumber yard on the riverfront and the house was a spectacular advertisement for his business. The house was the first residence built on Goose Street, later renamed Grove Street, and was placed on the National Register of Historic Places in 1979. Since 1952 the Odell House has been the headquarters for The Historical Society, Serving Sleepy Hollow and Tarrytown. Within its walls are museum exhibit rooms, a library, and storage rooms dedicated to preserving local history.
In order to restore the Odell House, the Historical Society applied for and was awarded a Conditions Assessment Grant where experts were hired to study the architecture and collections. The recommendations made by these experts are the core of the preservation plan that will guide the restoration of the Odell House (2013-2018). Along the way, the Historical Society will celebrate it's 125th anniversary in 2014.
Add an immediate gift or pledge for the restoration of the Odell House and see your legacy at work!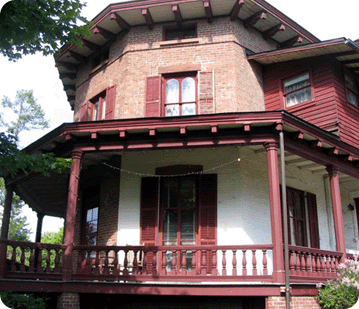 ---
Exterior Restoration Projects
Restore the historic façade
Repaint the mortar on exterior brick walls. Replace all fragile exterior bricks. Complete additional masonry repairs around the front entrance and stairs.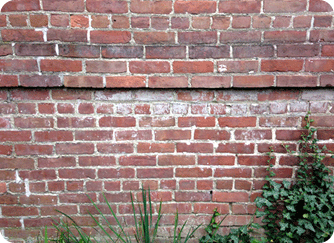 Replace the roof   COMPLETED
Install roofing system. Restore the gutters and leaders.
Restore the exterior wood and repaint
Restore or replace deteriorated exterior wood elements including historic shutters and verandah components. Incorporate the historic paint scheme to repaint all exterior wood.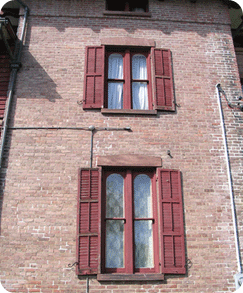 Repair the windows
Remove windows for restoration, repair loose/missing hardware, reglaze the glass, add weatherstripping, sand, paint and reinstall.   Purchase and install new storm  windows with UV protection.
Repair verandah
Replace wood on the floor of the porch and any columns or piers that require repair.  Replace stairs and repaint entire porch.
Update lighting
Install period-appropriate lighting on exterior.
Repair Exterior Fence
Replace section of damaged fence in front yard.  Paint the entire fence.
Interior Restoration Projects
HVAC
Update building systems, including heating and cooling.
Update fire protection
Install state of the art fire suppression and detection systems.  Install illuminated Exit signs.
Remove interior office wall
Remove modern non-structural wall to provide open work area in office.
Interior design updates – enhance exhibit space
Paint or re-wallpaper all interior rooms using historically appropriate color/design scheme.
Replace entry hall carpet.
Electrical system
Update electrical system where required.
Update storage rooms
Rehouse historic collections and purchase appropriate shelving for storage rooms. Paint all basement storage rooms. Update humidity controls.