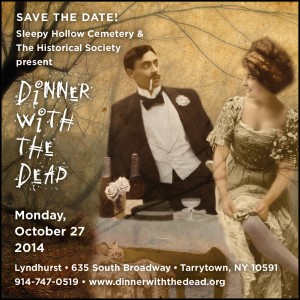 THANKS to all of our sponsors and donors who helped make the Dinner with the Dead a wonderful success!
The Sleepy Hollow Cemetery and The Historical Society, serving Sleepy Hollow and Tarrytown, are celebrating 165 and 125 years respectively! They have joined together to bring you a decidedly un-haunted evening featuring a delicious dinner by the bite in the company of several special guests who have left their final resting places to join us for an evening of revelry. Spend the evening with robber baron Jay Gould and socialize with Mr. and Mrs. Andrew Carnegie. Maybe hear a tale by Washington Irving or help black widow Lydia Locke find the perfect man. The night will be filled with clever surprises and delights.
The evening offers wonderful Sponsorship Opportunities for friends and supporters of these Historic Organizations.  For information and tickets to join us in our celebration visit www.dinnerwiththedead.org.