Something's Growing at the Historical Society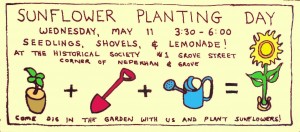 Update: May 12, 2011
Sunflower Planting Day at the Historical Society was a big hit!  The sun held out and everyone got to plant sunflowers, drink lemonade, and run around and around the historical society. Thanks to all the grown ups who helped make it happen and to all the little gardeners who planted sunflowers. Make sure to check back in the summer to see how your sunflowers grew.
The Historical Society is growing sunflowers and you're invited. Help us plant and grow our bed of sunflowers.
Come pick up your starter seeds and peat pot at the Society during regular hours any time after April 15. Start your seeds at home, and then join us back again for Planting Day, Wednesday, May 11 at 3:30 at the Historical Society.
For more information call Monique at 819-0835 or email HistoryGrows@gmail.com