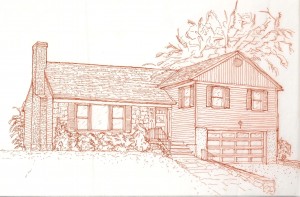 The Historical Society, Inc., Serving Sleepy Hollow and Tarrytown, is sponsoring a photo contest! It will focus on the SPLIT-LEVEL housing type and celebrate the life and culture of the fifties and early sixties through current and past images.
As traces of that nostalgic time drift away in memory and reemerge as dinosaurs demanding attention (the Tappan Zee Bridge was built in 1955), the Historical Society's photo contest aims to capture some of the zeal of past and present times using the SPLIT-LEVEL home as the springboard for photo ideas about domestic living. Think of TV having just been invented; — think of LP records with all of 15 minutes' play time per side just coming out; — think of the convenience of automobile shopping and the drive-in movie theater; — and, oh, don't forget backyard barbeques, dry martinis, and multicolored Formica. Caught up in AMC's Mad Men? Love your SPLIT-LEVEL house? Simply die for that vacuum-tube stereo sound? Let's see it in photos!
Submissions for the contest will be on display at the Warner Library from November 4 to December 4. Also, in conjunction with the Warner Library, the Historical Society will host a two-part program on SPLIT-LEVEL houses in Tarrytown and Sleepy Hollow. The topics include the history and development of the suburban housing type among the vanishing estates of the villages and the adaptation of the SPLIT-LEVEL house to the 21st century.
Program Dates: 2010
October 28 Entry deadline for photo contest
November 4, 7:00 P.M.   Warner Library      Reception for photo contest. Everyone welcome!
November 4, 7:30 P.M.   Warner Library      Lecture: History and Development of the SPLIT-LEVEL in Tarrytown and Sleepy Hollow
November 11, 7:30 P.M. Historical Society    Forum: SPLIT-LEVEL Variations on a Theme: Bringing the SPLIT-LEVEL into the 21st Century
November 11, 7:30 P.M. Historical Society    A Martini Toast to the Future of the Split Level
                                        RSVP by November 9th to: 914.631.8374 or to historyatgrove@aol.com
Information for Photo Contest:
Submission date: October 28, 2010
Cost of contest: The contest is free!
Prizes: Each of the top three photos will receive a grand prize.
Photos: All photos will be on display.
Entry format: Entries should be printed at 8″ x 10″ and may be color or black-and-white.
                             Multiple entries are allowed.
Please include the following information with your entry:
Contestant Name:
Address:
Contact Information:
Photo Description:
Send entries to: Historical Society, Attn: Photo Contest, 1 Grove St, Tarrytown, NY 10591
More information: Contact Greg Gall at (914) 907-6426